College of Engineering Recognizes Ph.D. Student Tim Ambrose with a 2021 Best Teaching Assistant Award
Originally posted by Rachel Steere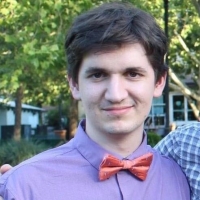 The UC Davis College of Engineering is pleased to recognize Tim Ambrose as the 2021 recipient of the Department of Electrical and Computer Engineering's Best Teaching Assistant (TA) Award. These awards are given across each of the eight engineering departments, and they recognize graduate students who show a strong commitment to the mission and vision of the college, whom consistently perform above and beyond to train and create the next generation of engineers and leaders. These award recipients were nominated and selected by their respective departments.
Tim Ambrose is a Ph.D. student researching robotics and distributed computing clusters. He received his B.S. in computer engineering and a minor in music from Cal Poly, San Luis Obispo in 2015. Prior to joining UC Davis to pursue his Ph.D., he worked as a hardware/software engineering intern at Keysight, as a software test engineer at Tapestry Solutions: A Boeing Company and also as a freelance videographer. Ambrose has since interned three more times for Keysight, and is now working there as a part-time, remote computer engineer. He is also a Tesla coil builder, pipe organist and pianist, singer, videographer, element collector and computer-controlled musical Christmas light show designer/builder/programmer.
Winners have received awards for their contributions to the college, and will be honored at the Graduate Student Awards Celebration in 2022.