Mike Coffey Earns 2022 Outstanding Alumni Mentor Award from ECE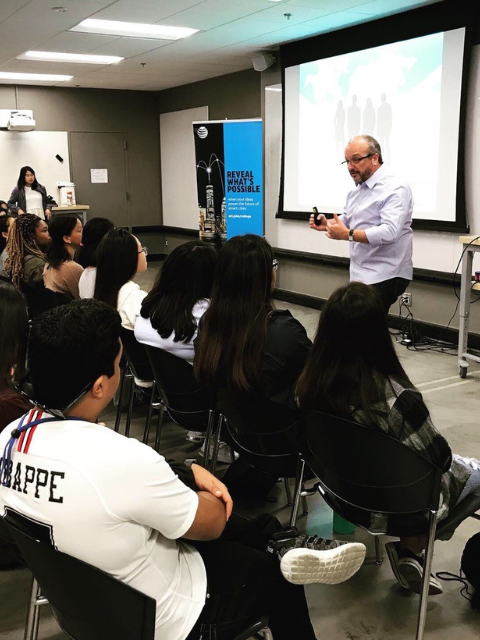 A retired AT&T executive who has committed nearly a decade of his life to mentoring UC Davis students is receiving this year's Outstanding Alumni Mentor Award from the Department of Electrical and Computer Engineering (ECE).
Mike Coffey '84, who travels several times a year from his home in Dallas, Texas to UC Davis to meet with students and serve as guest speaker at events, said he is humbled to be recognized for something he is "very passionate about—giving back to the next generation of engineers and business leaders."
"My ECE degree from UC Davis was the foundation upon which I built my career, and helping others find their path to success is a personal priority for me," he said. "It's real important to me to invest in people. Giving back and teaching is just an inherent part of who I am as a person."
Feeling "utterly clueless" as a first-generation student
Coffey is a first-generation college graduate who fell into the field of electrical and computer engineering almost on a whim. His father, who was a social services supervisor, made an off-handed comment one day about working with a systems analyst programmer on a big project. A few months later when a college recruiter visited Coffey's high school and asked him what he wanted to study, Coffey blurted out the first career that came to mind—systems analyst programmer. Based on the recruiter's positive reaction, Coffey decided pursuing that as a career might be a good idea.
When he arrived at UC Davis he "was completely and utterly clueless," and "didn't even really know what engineering was," he said with a laugh. Despite often feeling like a fish out of water, Coffey learned the ropes, worked hard and graduated with his bachelor's degree in electrical engineering. He then went to build a successful career at Pacific Bell and its later iterations, including AT&T, during a 34-year period.
Fostering industry partnerships
Coffey spearheaded a partnership between UC Davis and AT&T despite it not being any part of his job classification. Coffey prioritized personally visiting campus and meeting with students three times a year, even after he retired from AT&T.
While working at AT&T, Coffey also became involved with the College of Engineering's Leadership in Engineering Advancement, Diversity and Retention (LEADR) program. The program's mission is to recruit, retain and graduate a diverse population of students from the College of Engineering.
"As a first-generation college student, the mission of LEADR resonated with me—what it stands for, how it welcomes and engages students, the sense of community it offers and the tools it provides to students to overcome obstacles and achieve life goals," said Coffey. 
A philanthropic LEADR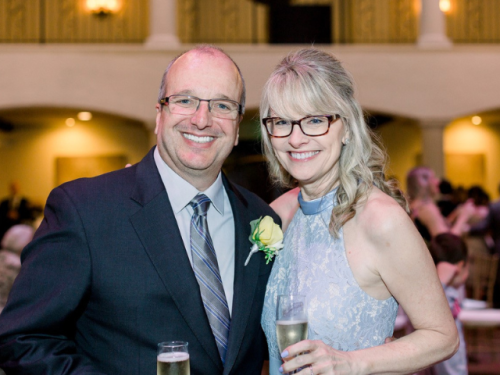 In addition to giving his time to LEADR, Coffey has personally given more than $150,000 to the program and secured matching gift support from AT&T, furthering his own gift. Additionally, Coffey and his wife Jody were the first donors to establish an endowed fund for LEADR and they have also committed a sizable gift through their estate to support the program.
Coffey also has been a member of the College of Engineering Dean's Executive Committee since 2018 and a member of the alumni engagement subcommittee. He has been an early and proactive supporter and contributor to the Department of Electrical and Computer Engineering's Give Day challenges associated with Picnic Day every year. He and Jody also has donated to the UC Davis Coffee Center within the College of Engineering.
"Mike is a thoughtful and impactful advocate who gives tirelessly of himself to support high potential, but low resourced and underrepresented students," said Yesenia Cervantes-Tucker, director of LEADR. "For the past seven years, Mike has been an executive speaker for the LEADR Summer Bridge program. He often changes his summer plans to be in California and available in person and always comes prepared, crafting thoughtful and inspiring messages that resonate with our students."
A mentor who empathizes and listens
Coffey says he is happy to give so much of his time and travel halfway across the country to visit with students because he hopes to motivate students by sharing his own experience. He wants to assure them that it is okay to feel unsure. He also sees his mentorship of students as an investment in not just their futures, but in the future of the college, UC Davis and society. It's why he says his approach to mentorship is not one of telling, but rather of asking.
"To be in a position where I can share my experiences and really ask them the questions they need to think through to figure out what they want for themselves—that's what I'm very passionate about," he said.
Coffey also gives to a number of other initiatives in the College of Engineering that help support the student experience. He and Jody have made gifts to AvenueE—a program dedicated to helping transfer students in the STEM fields. The couple has also invested in the Diane Bryant Engineering Student Design Center, which will more than double in size and include collaborative spaces for students to work together following a renovation to be completed in spring 2023.
"I want the students we are supporting to know that anything is possible," said Coffey. "If they work hard, stay focused and determined, and position themselves for opportunities to succeed, then good things will happen."
Primary Category
Tags