2022 Electrical and Computer Engineering Undergraduate Student Awards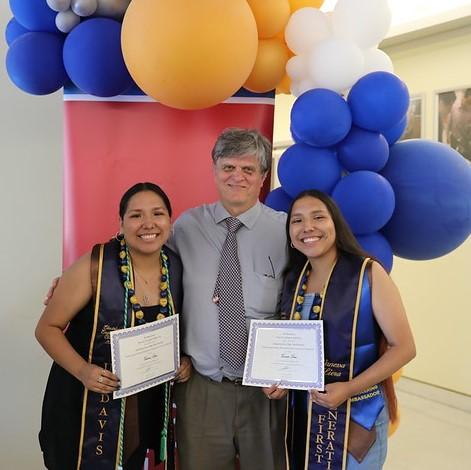 The Department of Electrical and Computer Engineering was pleased to honor the class of 2022 and welcome them as new alumni at the annual graduation celebration and awards ceremony on Friday, June 10. 
Outstanding Senior Awards
The Outstanding Senior Awards recognize graduating seniors who have made significant contributions to the learning environment through active academic engagement at UC Davis. This prestigious award is given to one senior in each major.
Computer Engineering: Ryan Kim

Since his first year, Ryan has consistently excelled academically, and by his final year at UC Davis, he published a paper. He studied several engineering topics, such as photonics and quantum mechanics, and also took courses in Japanese, linguistics and music. His leadership experience includes helping run an anime convention and working with voice actors, building electric formula cars, doing research on electron beams and joining an art club.

Electrical Engineering: Thomas Abbott

Thomas performed exceptionally throughout his career at UC Davis while also working as part of the university's IT staff. He interned at both Intel and Microsoft and held a leadership position in the recently found rover design club, RoveCrest. He has already started working toward his M.S. degree in electrical engineering at UC Davis.
Department Citation Awards
The Departmental Citation Awards are given to students in recognition of their exemplary academic achievements. Students who receive this award are in the top 10 of their class and are active beyond the classroom.
Electrical Engineering




Vincent Huynh




Jacob Sillman




Gabriela Garcia-Ortega




Theodora Triano


 

Computer Engineering




Elvin Huang




Richard P. Dowd




Ankit Ohri
Outstanding Leadership and Community Engagement Award for Undergraduate Students
Abdalla Hashem

In recognition of his work as Google Developer Student Club Lead and leading the student organization of more than 100 members to leverage Google tools to encourage students to develop solutions for schools. 

Vanessa Liera

In recognition of her leadership as a College of Engineering Ambassador, ECE Peer Advisor, co-founder of the Club Of Future Female Electrical Engineers (COFFEE), Chicanx and Latinx Engineers and Scientists Society (CALESS), Diversity in STEM Coalition (DiSC) and the Society of Women Engineers (SWE).

Varsha Senthil

In recognition of her accomplishments as founder and president of Activitree, a student organization that coordinates teams to ease high schoolers' transition to college, making interactive learning and mentorship accessible to all, especially first-generation students.  Activitree aims to provide college students with ways to try out new skills, learn together experientially and build community through meetings, mentorship and events.
Senior Design Projects
Becoming a competent and confident engineer requires developing expertise both within and across domains, and a critical aspect is developing the capability to design and integrate complex systems. The department requires every graduating student to work in an interdisciplinary team on a capstone project to design, develop and test a system that performs a specific function or solves an important problem in engineering. Several groups implemented truly exceptional designs this year.
Prof. Bevan Baas' EEC181 (Digital Systems Design Project)
"AggieSnapAndPlay (ASAP)": Thomas Abbott, Jefferson Chen, Raihana Yarzada, Daniel Vallejo

Prof. Raj Amitharajah's EEC136 (Electronic Design Project)
"Growful - A Smart Houseplant Monitor": Vincent Huynh, Justin Lee, Ankit Ohri, Parinaz Mahrouyan, Christina Zheng

Prof. Raj Amitharajah's EEC193 (Independent Senior Design Project)
"Hawkeye Inspection Robot for National Ignition Facility at Lawrence Livermore National Lab": Vanessa Liera, Victoria Liera, Devon Liu, Jocelyn Park, Brian Shimabukuro, Dzmitrij Sysou

Prof. Chen-Nee Chua's EEC174 (Applied Machine Learning Senior Design Project)
"The Utilization and Implementation of Computer Vision in Autonomous Vehicles for Object Detection and Avoidance": Abraham Hadaf, Ameek Nijjar, Jared Velasco, Samuel Demissie

Prof. Lance Halsted's EEC195 (Autonomous Senior Design Project)
"Autonomous Vehicle": Abdallah Hashem, Upamanyu Kashyap, Samuel Miller, Ralph Shehayed
Photos from the 2022 Electrical and Computer Engineering Graduation Ceremony are posted on the College of Engineering Flickr page.
Primary Category
Secondary Categories
Tags