Electrical and Computer Engineering Graduates Create Clothing Line to Encourage Latinas in STEM
Twin engineers Victoria and Vanessa Liera are putting their design skills to use in a unique way. Along with designing electrical circuits, the sisters created a clothing line that encourages the Latina community to pursue careers in engineering.  
Victoria and Vanessa are 2022 UC Davis graduates, both boasting degrees in electrical engineering. However, their passion for encouraging STEM education for minorities did not end once they received their diplomas. Instead, they wanted to continue to advocate for underrepresented groups and their academic careers.  
The twins both got their spark for engineering in middle school. They took a class that taught them to program a robot to follow a path, and their love for electrical engineering lit up. A field trip that allowed girls to engage with hands-on engineering activities solidified their passion for the field, and they committed to their future in STEM.  
However, they acknowledge that engineering isn't widely advertised as a career option among their community, and that their own personal initiative is what propelled them the most.  
"If I wasn't the one who became interested in engineering, I don't think I would have done it," said Victoria. 
After studying engineering themselves, they resolved to show young Latinas that engineering is not only an option for them, but a space where they are welcomed and able to succeed. This intention to support their community led Victoria to the term "Latingeniera," which is featured on their merchandise line.
"Latingeniera" is a combination of the word "Latina" and "ingeniera," which is the Spanish word for female engineer. The combination of these Spanish words intends to signal to the Latina community specifically that the engineering world is a place where they are encouraged and able to succeed. All proceeds from their new merchandise line will be donated to support Latinas in engineering.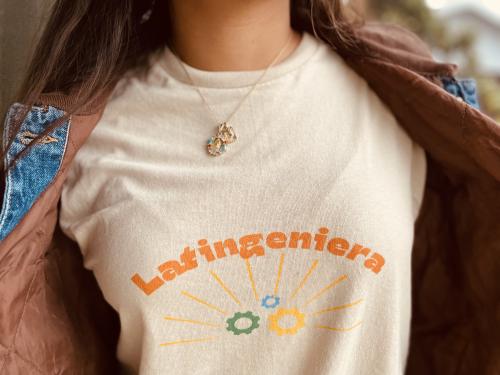 Victoria and Vanessa know firsthand how important a strong sense of community can be for academic success. Like many other college students, the twins initially questioned their abilities. In many of their introductory courses, they felt unprepared compared to other students. Vanessa recalls asking herself "How is everyone else getting it, am I in the right place?" 
Quickly, the twins tweaked their study habits and organization systems to adapt to the fast-paced and rigorous UC Davis curriculum. Making adjustments to their personal academic routines aided in acclimating to college courses and some of their most supportive assets came from a sense of community and belonging.  
Vanessa discussed how the twins found encouragement with other girls in their classes, with whom they formed close, supportive bonds. This, they say, is what they want to create with their clothing line: a sense of community among women and minorities in engineering disciplines that fosters a tightly knit, supportive network.  
Their brightly colored and pleasing designs are featured on T-shirts, notebooks, mugs and more. Victoria is currently creating even more designs that advertise different types of engineering and a diverse range of faces and people in order to create a stronger sense of representation. She acknowledges that Latinas don't have one specific look and producing inclusive designs will cater to a broader intended audience.   
Victoria and Vanessa's "Latingeniera" merchandise line is helping bridge the gap between Latinas and engineering. The two successful engineers are passionate about encouraging young Latinas who may be in the same position that they were years ago and showing them that engineering and STEM is a place where their success is possible.  
Secondary Categories