Graduating Senior Man Yu '22 – 'Engineering Changes the World'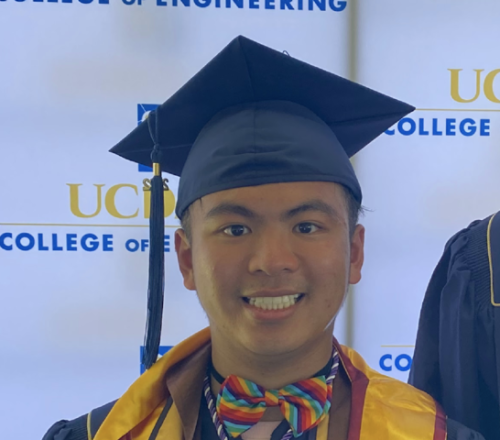 As a first-generation college student, Man Yu, a graduating senior in the Department of Electrical and Computer Engineering, or ECE, knew he had to do something incredible to make his family proud. When he was in high school weighing his career pathway options, his parents encouraged him to choose ECE.
Now, with diploma in hand, he is ready to walk the commencement stage and glad he chose to pursue engineering.
"I learned the theories of electrical engineering and how I can model circuits in math," he said. "I became fascinated by electrical engineering and knew it was the correct major for me."
While exploring different courses at the College of Engineering, he took a class from John Bolander, a professor in the Department of Civil and Environmental Engineering. While this class wasn't directly related to ECE, Yu found Bolander's method of teaching made the coursework exciting.
"He's played an important role in my time in UC Davis since he made me realize the importance of cross-disciplinary engineering," he said.
The COVID-19 pandemic also contributed to Yu's passion for engineering, as he realized the power of connectivity.
"During the pandemic, we were able to communicate remotely with wireless technology, computers, monitors, power and Zoom," he said. "A large chunk of electrical engineering fields can contribute to this."
This realization showed him that "engineering changes the world," and he knew he needed to be a part of that. He's now preparing to earn his master's degree in ECE under Associate Professor Omeed Momeni. After his master's program, Yu plans to earn his Ph.D. and ultimately end up back in academia as a professor to inspire future generations of engineers.
Primary Category