Meeting Challenges, Thinking Differently 
ECE Alumnus and Helium COO Frank Mong shares his story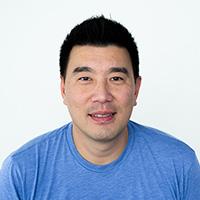 As a first-generation college student, electrical and computer engineering (ECE) alumnus Frank Mong ('97) wanted to build a career to give his low-income immigrant parents a better life. He remembers them being "absolute zealots" about education and encouraging his pursuits.  
"I chose to attend UC Davis so that I could study electrical and computer engineering. My mother had a friend who was an engineer, and he told me that being an engineer was the best thing ever, that I could get an excellent job in the field," says Mong. 
Early on, Mong struggled with coursework. "Engineering at a college level is a real shock. Even if you earned 99 or 100 percent on tests in high school, that's not likely to happen in college." 
However, he graduated and became the chief operating officer (COO) at Helium through perseverance. Founded in 2013, Helium is building the world's peer-to-peer decentralized wireless network by offering cryptocurrency incentives to owners.
Mong attributes the lessons he learned from UC Davis to his success. The study and project management skills he developed while in the ECE program were transferable to his COO position.
Rising to the Challenge
His coursework came alive upon completing the first two years of learning foundational engineering background material. "In one thermodynamics course, the professor brought a turbojet engine into the classroom! We could all come up and see how it worked. That's what I loved best when it wasn't just conceptual—when the professors could connect what we were learning to the real world." 
Reinvigorated, he began to reorganize his priorities to focus on engineering, including giving up collegiate volleyball and taking the more challenging courses one at a time in the summer. 
He found that forming study groups with other students who were doing well in class helped him. Some of his study partners are still close friends. "I wasn't the best student; sometimes, my study groups had to carry me along. Without my study group partners, I would not have made it." 
At UC Davis, he discovered he had difficulty learning some engineering concepts. He encourages students to get assessed for learning differences and take advantage of campus resources. "If you're struggling, go and talk to someone, your professors, even the dean. Professors want you to succeed and can help you. Find and celebrate little moments of success; you need to hang onto those. And don't give up. Engineering is not easy, but it's not the hardest thing in the world either. If I can do it, so can you." 
Breaking Through to Success
Learning to rise to meet academic challenges in college prepared him for the problem-solving urgency he encountered as he began his career in tech. Recently, he worked for a firm that only had one year of cash reserves left. 
The startup attempted to solve their issues by finding ways to bring Bitcoin and Ethereum to the consumer market but discovered that doing so would require more power than the entire city of San Francisco currently uses. Today, Helium is a smashing success as it stumbled onto cryptocurrency incentives to solve the cold start problem of building wireless networks. 
Mong leads Helium's marketing and communications, sales, and business development, which he found his way into serendipitously. Although not initially trained for his current role, he enjoyed meeting with customers to determine their product needs, leading to the COO role.
Communications and partnership development are crucial to Helium's mission, as they rely on recruiting individuals to turn their properties into public wireless hotspots. "It's not technically feasible for one company to build a global telecommunications network by itself," he says. "Blockchain used to help decentralize this effort is the key."
Looking back, he wouldn't change anything about his educational choices. "I'm not an engineer, but I can understand what Helium's engineers are talking about, and I have UC Davis ECE to thank for that." 
Mong's career, as well as his education, offered real-world practical benefits. He's been able to help his parents retire early and provide financial support. 
Mong will be the keynote speaker at the upcoming ECExpo on April 8th, a virtual showcase of new research and departmental highlights. All are welcome to sign up to hear his and others' insights and experiences.
Primary Category
Secondary Categories