Melisa Ekin Gulseren Awarded SPIE Optics and Photonics Education Scholarship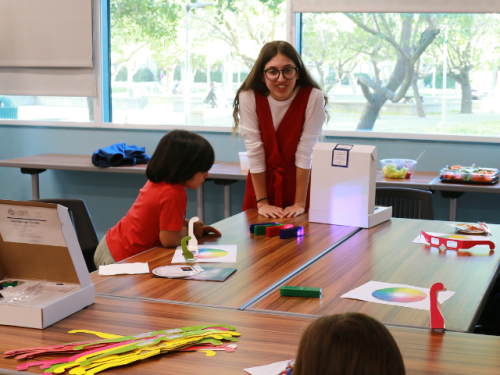 Melisa Ekin Gulseren has been awarded a 2022 Optics and Photonics Education Scholarship by SPIE, the international society for optics and photonics, for her potential contributions to the field of optics, photonics or related field.
Gulseren is currently pursuing her Ph.D. in the Applied Micro/Nano Electromagnetics Research Laboratory led by Professor J. Sebastian Gomez-Diaz. The overarching goal of her research is to exploit the electromagnetic properties of hyperbolic metamaterials and ultrathin metasurfaces to enable new venues for sensing and detection applications. She is currently working on developing new platforms for the selective detection of long-wavelength IR radiation and X-ray to visible light conversion.
In addition to her contributions to research, Gulseren is committed to paving the way for future engineers and making science, technology, engineering and mathematics (STEM) welcoming to everyone.
"I am passionate about diversity, equity and inclusion in STEM and very engaged with STEM-related outreach activities in the Davis area," Gulseren said.
The SPIE scholarship is a recognition of Gulseren's current work and potential in the future. It is also motivation to do her best.
"I have enjoyed my time at UC Davis in electrical and computer engineering and am grateful for everyone who has supported me in my degree so far," Gulseren said. "I am excited to see what other opportunities I may have as I continue working towards my Ph.D. degree."
In 2022, SPIE is awarding $293,000 in education scholarships to 78 outstanding SPIE Student Members. Through 2021, SPIE distributed more than $6 million dollars in individual scholarships. This ambitious effort reflects the SPIE's commitment to education and to the next generation of optical scientists and engineers around the world.
Media Resources
Primary Category
Tags