UC Davis Engineering Students Compete to Build Corsi-Rosenthal Air Purifiers
The halls just outside the Leadership in Engineering Advancement Diversity and Retention (LEADR) Student Center in Kemper Hall radiated with energy and creativity.  During a friendly design competition, held on February 15, undergraduate engineering student teams gathered to build Corsi-Rosenthal air filters. 
The LEADR Student Center is designed to provide study space and academic advising for engineering students, particularly those from underrepresented backgrounds. Chevron Corporation sponsors the LEADR Student Center (aka "The Center") with additional contributions from AT&T, Boeing Company, Cisco Systems, Northrop Grumman Corporation, and Union Pacific. The build event received financial support from Texas Instruments and UC Davis' Department of Electrical and Computer Engineering. 
Simple, Effective COVID-19 Safety Tool
The Corsi-Rosenthal air filters, invented by Dean Richard L. Corsi, have allowed the College of Engineering to bring back in-person lab courses this year.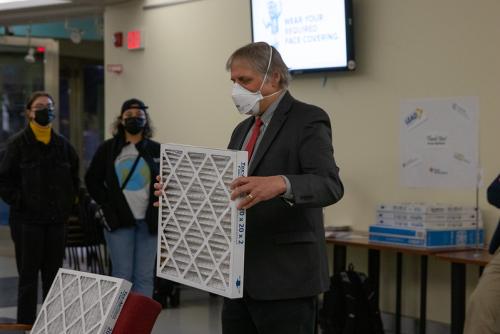 "At the beginning of January, we decided we wanted to conduct in-person labs and needed better ventilation. In two weeks, we built 31 of these units," says Electrical and Computer Engineering department chair Andre Knoesen. 
Corsi-Rosenthal boxes are easy to build and consist of four furnace filters and a box fan. 
They were originally designed by Dean Corsi, then built by Jim Rosenthal, Chairman and Chief Executive Officer of Air Relief Technologies, Inc. and past president of the National Air Filtration Association. According to the Clean Air Crew, a group of scientists and professors providing practical information about the COVID-19 pandemic, "If you can seal a box, you can build one, or 100, of these!" 
Each box is made up of four air filters on the sides. An electric fan on top draws out the air purified by the filters. The minimum efficiency reporting value (MERV) filters are less effective than the high-energy particulate air (HEPA) filters normally used for this purpose. However, the fan speeds up the rate at which air passes through the filters—allowing the entire system to clean a room's air more effectively and efficiently than a regular air filtration system. The Corsi-Rosenthal systems provide effective protection against COVID-19 for a classroom or laboratory.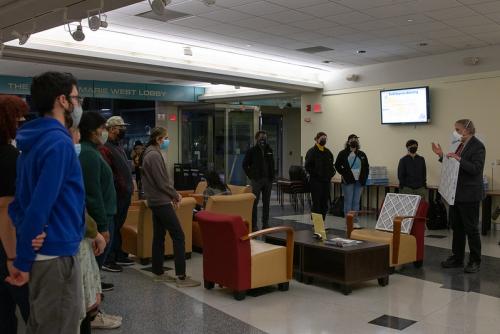 "The idea came about in summer 2020 when a lot of people were beginning to understand that COVID-19 was essentially transmitted by respiratory aerosol. We created this to make air cleaning accessible for all people," Corsi explains. 
Student Creativity Tackles a Global Challenge
Student designs incorporated colorful construction paper and other decorations. Corsi-Rosenthal boxes built that night resembled cows, flowers, insects and what seemed to be a dragon in flight. The designers came from different majors within the College of Engineering and brought diverse expertise to the project. 
Winners received prizes for aesthetics, creativity, and school spirit and were chosen by judges present that night, including Dean Corsi, Yesenia Cervantes-Tucker of AvenueE, a program to help community college students transition to engineering studies at UC Davis, the Electrical and Computer engineering (ECE) department chair Andre Knoesen, and mechanical and aerospace engineering professor Ralph Aldredge.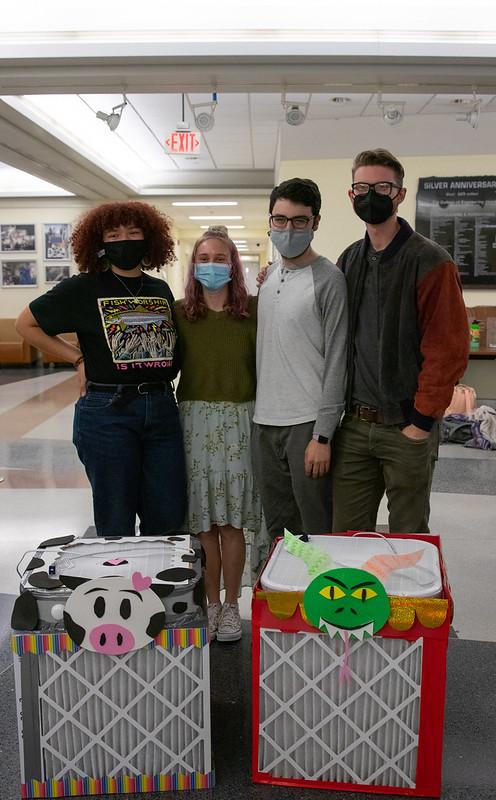 As everyone enjoyed pizza and snacks, Dean Corsi reflected that this build was a creative way to engage engineering students in constructive action to protect the campus from the COVID-19 pandemic. 
"People can build their own Corsi-Rosenthal boxes for one-fourth the price of a regular HEPA air cleaner," Corsi says. "For the general public, we have expanded from citizen science to citizen engineering. People can do something positive to protect themselves and others in their communities." 
Learn more about building a Corsi-Rosenthal Box here: https://encycla.com/Corsi-Rosenthal_Cube
Primary Category
Secondary Categories