2023 ECE Graduate Student Awards
The Department of Electrical and Computer Engineering honored eight graduate students at an awards ceremony on September 25, 2023. The awards recognized the students' significant scientific contributions, academic leadership and outstanding teaching. 
Anil Jain Memorial Prize 
Established in memory of Professor Anil K. Jain, this award is given to a graduate student who has made seminal contributions to signal processing and computer vision. 
Nayan Paul 
Paul's graduate advisor, Professor J. Sebastian Gomez-Diaz, wrote: "I supervised Nayan for over 4 years and can state with full confidence that he is one of the best student researchers I've had the pleasure to work with. Nayan has made outstanding contributions to the field of optical forces, nano-plasmonics, 2D materials, and non-reciprocal surfaces."
Richard and Joy Dorf Graduate Student Award 
Established by the Dorf Family Foundation, this award recognizes research achievements of an ECE graduate student and their promise to produce many more intellectual contributions to the field of electrical and computer engineering. 
Feng Tian 
Tian's advisor, Associate Professor Weijian Yang, wrote, "He is a very dedicated student with exceptional academic promise. In his Ph.D., he has been developing innovative compact devices for 3D imaging and microscopy, which have great significance for both mobile consumer electronics and implantable biomedical devices."
Khadar B. Shaik Memorial Award 
Established in the memory of Khadar B. Shaik who received a Ph.D. in 2014 from UC Davis, this award recognizes a graduate student who has advanced to candidacy and has shown great promise for intellectual contributions to the field of electrical and computer engineering. 
Begum Kasap 
Kasap's advisor, Professor Soheil Ghiasi, wrote, "I believe Begum embodies many of the virtues that Khadar also possessed. I have been consistently impressed with the breadth and depth of her knowledge, creativity, superb work ethics, interpersonal and leadership skills, and essentially, her commitment to excellence."
ECE-Valley Tech Systems Graduate Fellowship 
The department partnered with Valley Tech Systems, Inc., a Folsom-based engineering company leading the way in controllable solid propulsion and open architecture airborne intelligence, surveillance and reconnaissance technologies, to establish this fellowship in 2023. Recipients receive three-quarters of full-time, in-state tuition at UC Davis and a monthly stipend of $600.  
Vincent Cong Vinh Huynh 
Huynh researches machine learning and signal processing in wireless sensor networks under Distinguished Professor Zhi Ding. He is the previous awardee of the Northrop Grumman Graduate Fellowship and a cash prize winner at the Little Bang! Competition for a micro-controller-based irrigation system he designed for indoor plants.  
Smita Bakshi Online Digital Learning Teaching Awards 
Awarded annually to teaching assistants who have made exceptional innovations in the use of technology or develop digital material to improve the curriculum and the learning outcomes for our students 
Ahsan Ahamed 
Nominated by Professor Erkin Şeker, who wrote, "His enthusiasm, versatility, and technical knowledge of simulation and online instruction tools have been instrumental in being able to continue to teach EEC 146A during the pandemic and also enabled to extend the course to more students by strategically reducing the costly in-person laboratory components."

Timothy Ambrose 
Nominated by Professor Rajeevan Amirtharajah and Associate Professor of Teaching Hooman Rashtian, who both celebrated his passion for teaching and diligence in creating digital content for five different courses. Of particular note is his work to update video tutorials and prepare and maintain detailed FAQs for students and fellow TAs, they explained. 
Northrop Grumman Graduate Fellowship Award 
Established for graduate students conducting research in the field of signal processing and telecommunications.
Christopher Mekhiel 
Distinguished Professor S. J. Ben Yoo, Mehkiel's Ph.D. advisor, wrote, "He is an exceptionally bright and hardworking student, and he has excelled in both his academic and research work. He has also demonstrated outstanding research and leadership potential." Mehkiel is researching photonic-electronic signal processing for coherent optical communications and coherent imaging systems. 
Teaching Assistant Excellence Award, IEEE Outstanding Teaching Assistant Award 
Every year, the College of Engineering recognizes the Best TA from each department for teaching assistants who demonstrate a commitment to the teaching mission of the College of Engineering and a commitment to teaching that goes far beyond the typical duties required of a teaching assistant. 
Sean Alling 
For the past seven years, Sean has been the teaching assistant for EE-Emerge, a yearlong course that tasks ECE juniors and sophomores to promote engineering to the public with interactive electronic exhibits. Department Chair André Knoesen said, "Over the seven-year period, Sean continued to excel in all categories and is the best TA I ever had in EE-Emerge." Students also praised Alling, applauding his kindness, patience and thoughtful mentorship. 
Alling also received the Outstanding Teaching Assistant Award from the UC Davis chapter of IEEE.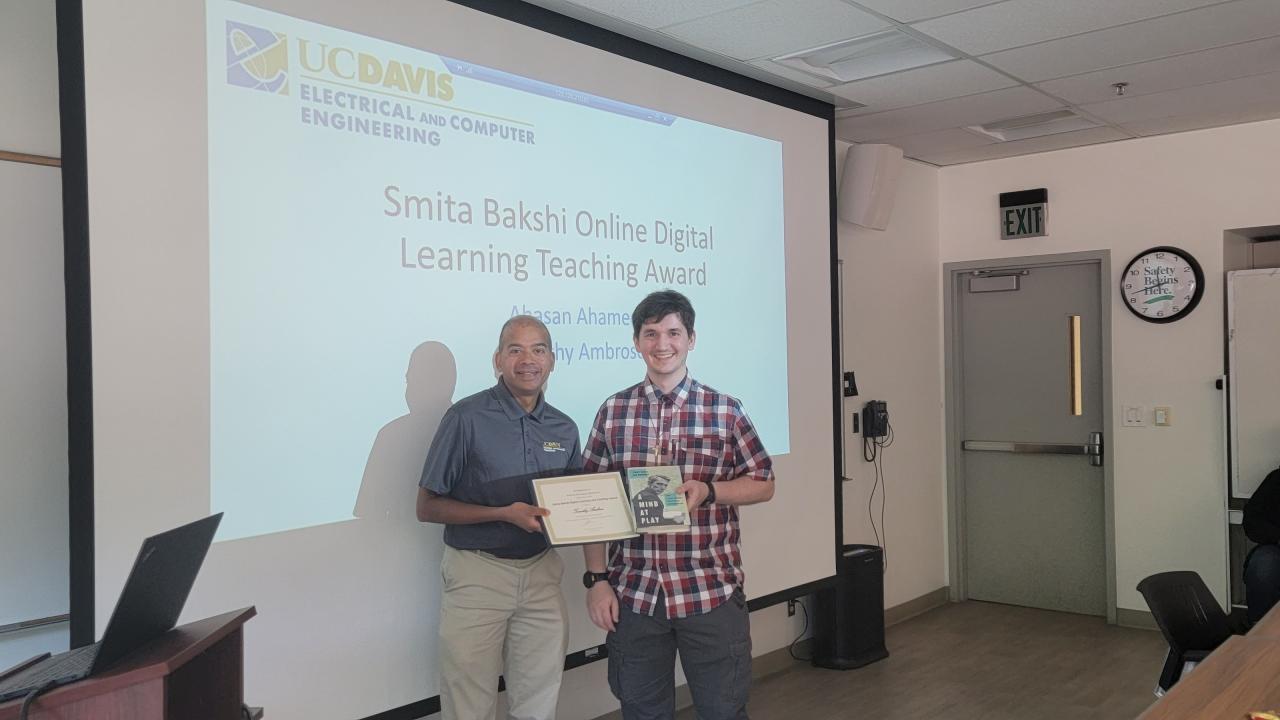 The 2023 ECE Graduate Student Award Recipients
Primary Category
Tags