Bang! Bang! Bang!
ECE students win 3 awards in UC Davis business competition
Students representing the Department of Electrical and Computer Engineering swept this year's Big Bang! and Little Bang! competitions.
The interdisciplinary, innovation and business competitions are hosted through a partnership between UC Davis's Mike and Renee Child Institute for Innovation and Entrepreneurship at the Graduate School of Management. The competition is designed to drive innovation and help budding entrepreneurs bring their new ideas to market.
The Little Bang! competition included two sessions, one in January 2022 and the second in May 2022, where teams presented their posters and gave a 90-second pitch of their business idea to audience members, other teams and then a panel of judges. Both sessions offered cash prizes to winners, with the second session winners being announced at the Big Bang! competition. At the 22nd Big Bang! competition, which was held on May 26, finalists had to prove to a panel of five judges that their project had an integrated strategy, offered viable steps toward implementation, and could fulfill a real world market opportunity.
Electrical and computer engineering undergraduate and graduate students were winners at both Little Bang! competition sessions and won the top award of the Big Bang! competition.
Saving babies and mothers from unnecessary surgeries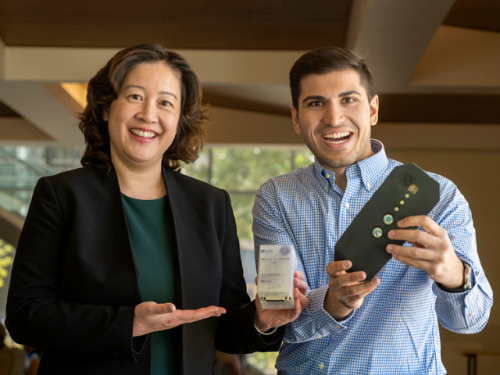 Kourosh Vali, a doctoral candidate in computer engineering, and collaborator Regina Hoang, an MBA student, beat out 44 other teams to take home the $20,000 first prize in the 2022 Big Bang! competition for their innovation of a medical device to measure fetal oxygen levels in the womb.
Working for Storx Technologies, a UC Davis-based startup, Hoang and Vali developed the medical device in Professor of Electrical and Computer Engineering Soheil Ghiasi's lab. The inspiration for the innovation came after Ghiasi's wife experienced a C-section while delivering their child.
The noninvasive device will enable doctors to more accurately diagnose whether a baby needs to be delivered by Cesarean section (C-section). Fetuses that do not have adequate oxygen (fetal hypoxia) may suffer lifelong disabilities or even death if they are not delivered through an emergency C-section. The team thinks their device will enable physicians to avoid the 60% of mistakenly diagnosed hypoxic cases that can lead to unnecessary C-sections.
"This breakthrough device will make labor and delivery safer for moms and babies," said Vali. "It will let doctors know when the fetus's blood oxygen saturation levels are low — a red flag that indicates the baby needs to come out right away or risk losing oxygen to the brain or organs. In these cases, the device can prevent disabilities such as cerebral palsy and epilepsy."
Hoang and Vali said they will use the prize money to continue their research and development on the potential product.
An easier way to take care of

houseplants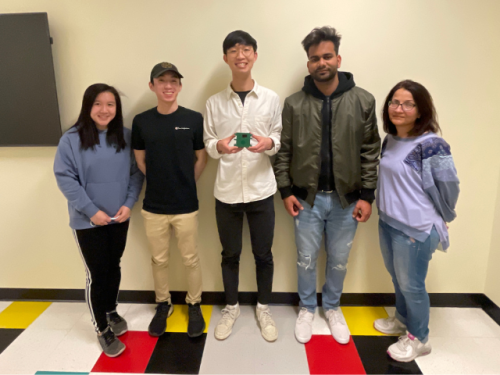 Vincent Huynh '22 and his team of fellow electrical and computer engineering undergraduate students won two Little Bang! Awards in 2022 for their micro-controller-based indoor irrigation system called Growful.
The device, which is about the size of a portable hard drive, measures relative humidity, ambient temperature and soil moisture to know when to automatically water your house plant when it gets too dry. It is placed into a pot and can be managed through a person's smartphone. To operate, the user inputs the volume of the pot and the minimum moisture level they want for the plant. Every five minutes the device takes a measurement of temperature and humidity, as well as a soil moisture reading every hour. If the measured soil moisture drops lower than the requirements the user requested, the device will activate a water pump that will water the plant for a time period that is determined by a proprietary algorithm the team developed and programmed into the device. 
"We drew inspiration for the project from our time in quarantine where we knew a lot of people got houseplants," said team leader Huynh. "So we wanted to create a device that would help them manage their devices more easily and efficiently."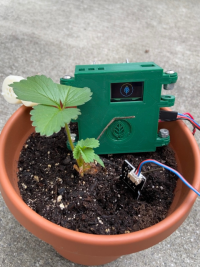 Huynh said the team had to learn a litany of skills to create the device: printed circuit board (PCB) design, coding, soldering and programming on top of communication skills, organization and teamwork. At the recommendation of their instructor, Professor Rajeevan Amirtharajah, the team decided to enter their project into the Little Bang! competition.
Not only did the team win Little Bang! awards totaling $1500, they also won Outstanding Senior Design Project for their class, and presented the project at the Engineering Design Showcase and the Electrical and Computer Engineering Expo. Huynh described the experience of participating in Little Bang! as valuable not just because they won a prize, but also because of the public speaking experience gained and the feedback they received on their project.
"It was great to get feedback in terms of the business aspect of this project because when we designed it, the original intention was just for our senior design project. So we were mainly focused on the technical aspects of it," Huynh said. "But by participating in the Little Bang! competition we got to interact with a lot of different people and they would ask us questions that made us think about it in a whole different way. And they told us, 'We would totally buy this.'"
Better 

insight into wine fermentation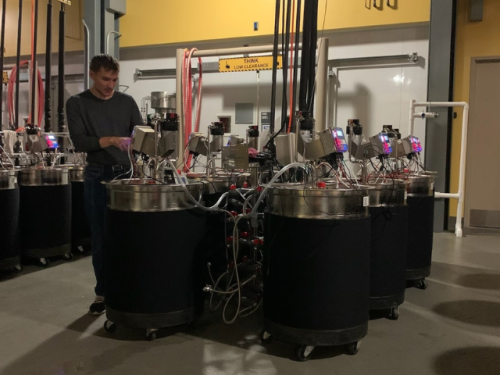 James Nelson '20, M.S. '22, a Ph.D. candidate in electrical and computer engineering and T.J. Rodgers Fellow, won a 2022 Little Bang! award for a software program he developed called MeshVines that allows winemakers to diagnose and predict the fermentation process of wine, thereby helping wineries more consistently produce wine.
Nelson's software utilizes a wine fermentation model that was developed 40 years ago by one of his Ph.D. advisors, Distinguished Professor Emeritus of Chemical Engineering and Viticulture and Enology Roger Boulton, and provides insight and predictive modeling into an especially important phase of the wine fermentation process in which the fermentation has not yet finished, but yeast cells have stopped growing and are dying off. Nelson's software also is integrated with another Department of Electrical and Computer Engineering innovation: real-time fermentation sensors. Nelson's software uses the data captured through the sensors and then applies Boulton's model to detect abnormal fermentation patterns and predict different outcomes for possible solutions to any problems that might be discovered.
"It's informed intervention, rather than traditional methods based on empirical observations, that MeshVines enables," Nelson said. "And every wine fermentation is unique, so having precise information is helpful."
By detecting abnormalities much sooner and providing data-informed solutions to problems, the software has a high ROI. Nelson said that if the software was to save even one batch of wine, it would have already paid for itself. Plus, by using sensors to acquire the data rather than having to gather that information manually, wineries can cut down on labor costs.
In addition to labor efficiencies, the software can help promote energy efficiencies as well. The predictive modeling can also be used to track the release rate of heat during the fermentation process.
"If you know the future load of what you need to cool down, then you can better manage that," Nelson said. "And that is definitely a problem wineries are facing with PG&E time-of-day billing in places like Napa, where energy is more expensive within certain hours of the day."
Another benefit of the product that business professionals and winemakers noted was that the software could easily be applied to data dashboards and sensors already used by winemakers. Additionally, the software is hosted in a cloud so wineries can input their datasets and get predictions without having to manage their own computing infrastructure.
Leveraging the feedback he got from Little Bang! competition, Nelson has already made inroads in bringing the software to market. In fall 2022 his software will be integrated into the LEED Platinum Teaching and Research Winery at UC Davis' Robert Mondavi Institute for Wine and Food Science and a commercial winery in Napa. He plans to expand his software's usage to wineries internationally, which are all facing similar labor, energy and winemaking challenges.
"The biggest take-a-way from Little Bang! was looking at the research I'm doing through a completely different lens outside of academia," Nelson said. "To think of the business implications and how it would be sustainable, that was really valuable."
Primary Category
Secondary Categories
Tags