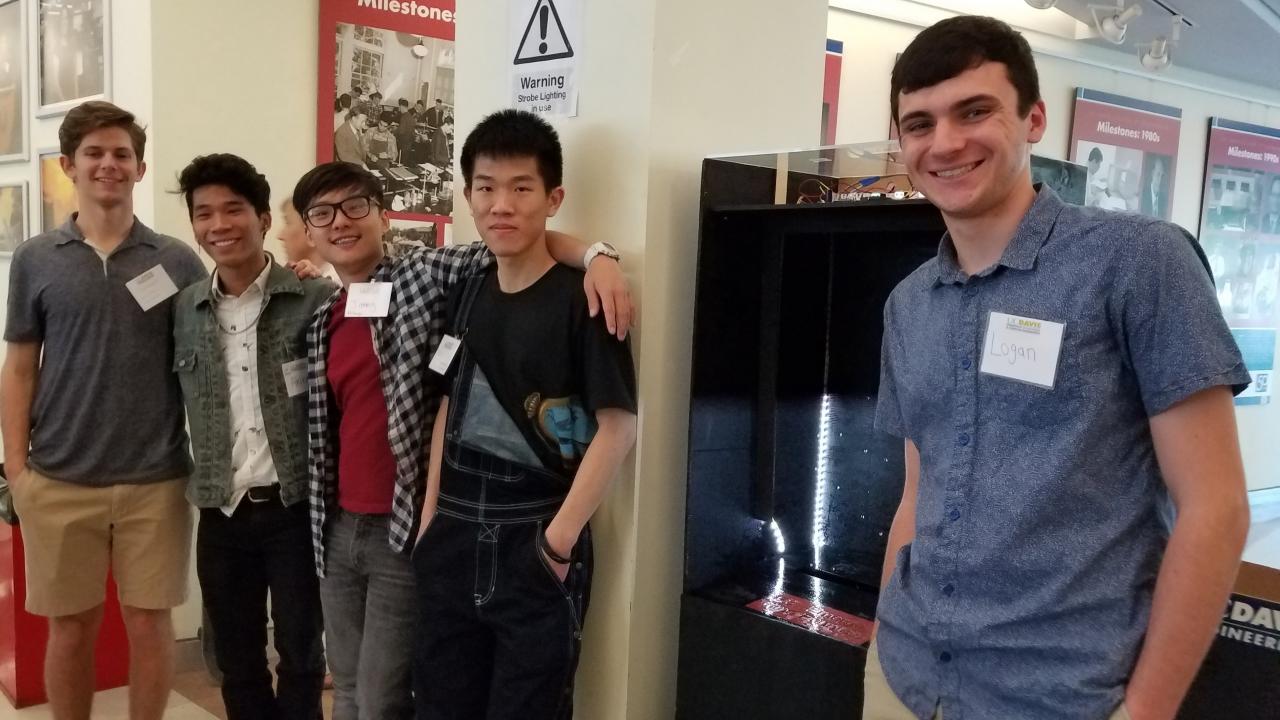 By Jeremiah Baxter and Adil Abbuthalha
In 2011, Professor Andre Knoesen started EE-Emerge. Abby, a CSE student, describes EE-Emerge as a "junior design project where [students] create electronic displays that will inspire kids," specifically K-12 students, "to pursue STEM." The program engages junior-year students, advising their proposal and overseeing the interactive electronics projects' development. Through their experience as team members, they cultivate not only hard skills building an on-hand personal project, but soft skills, such as leadership and efficient communication, necessary for working in future design teams. The three-quarter program culminates with the demonstration of the students' team projects at Picnic Day, when the College of Engineering students, faculty and staff host interactive events, showcasing their incredible work. EE-Emerge's vision has attained sponsorship from Texas Instruments.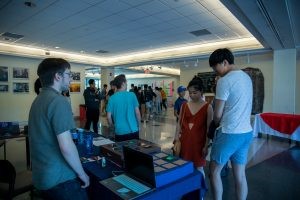 This year's Picnic Day featured various exciting projects, all singularly impressive and mystifying the audience. One was a large, dark box which seemingly allowed its operator control over the speed and direction the water droplets inside it would fall. Valves releasing water droplets at one frequency while LED rows flash at another achieve this fascinating illusion. A team member, Logan, presenting this "Time Fountain," said that "playing with the two [components] can create some really cool effects." His co-exhibitor Spencer explained, "We're able to use different Texas Instruments microcontrollers; that's pretty much the brain behind [it] . . . We were able to design our own circuit board . . . to implement this."
Students Navi, Suleiman and Audrey presented a 2D surface game. Suleiman described the objective as similar to Whack-a-Mole, where "one of the nine panels will randomly be lit, and if you touch it at the [right] time, you get a point."
Lastly, we interviewed the "Dance Defender" game creators. The game intertwines components of "Dance Dance Revolution" and "Space Invaders," aptly dubbed "Dance Defender." By stepping on the correct square, players could  score points and defend their city from alien-arrow ships. It entertained both children as well as adults, with the adults testing the classic hybrid as well.The project was designed by team members Abby, James, Tri and Taylor. Abby describes the project construction and background, "the pad is made of a resistive material which senses pressure and sends that signal to custom circuit boards and a MATLAB game". All the EE-Emerge projects featured at Picnic Day were a huge hit. Within a few short weeks the  EE-Emerge exhibits will be displayed at the Maker Faire, held in San Mateo. With the success of this year's EE-Emerge, we are all greatly enthused for what projects will come next year.
Category
Tags