February 26: Mark Your Calendar for Our First UC Davis ECExpo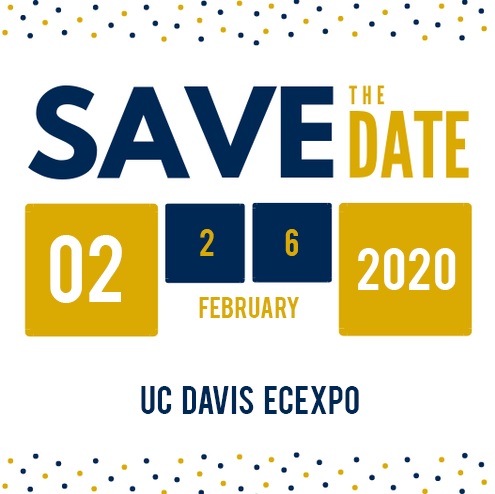 View Our Event Agenda 
The Electrical and Computer Engineering Department at UC Davis will be hosting our very first UC Davis ECExpo Wednesday, Feb. 26, 2020, 2 - 7 p.m.
Our Texas Instruments-sponsored event will be held at the Texas Instruments Conference Center in Santa Clara, Calif. This event is an opportunity for UC Davis Electrical and Computer Engineering alumni, students, industry partners and friends to collaborate, network, learn about technical innovations and stay up to date with research. Not only will students have the opportunity to connect and network with industry partners, they will also be able to receive feedback on senior-design projects, showcase research with a poster presentation and learn more about mentorship.
We hope you will join us and our generous host, Texas Instruments, for valuable networking plus an inspiring keynote by our very own Professor Houman Homayoun.
We are beyond excited to make our footprint in the Silicon Valley with our first annual ECExpo with the help of all of our alumni, students, faculty and more. 
More information will follow; for all inquiries, please contact ecechair@ucdavis.edu.
Mini-Symposiums
Wireless Networking with Cyber-AI

Technologies for Smart Health: From Device to Systems

RF and mm-Wave Technologies for Communication and Sensing

Gunrock: High Performance, Programmable Graph Analytics for the GPU
Primary Category
Tags