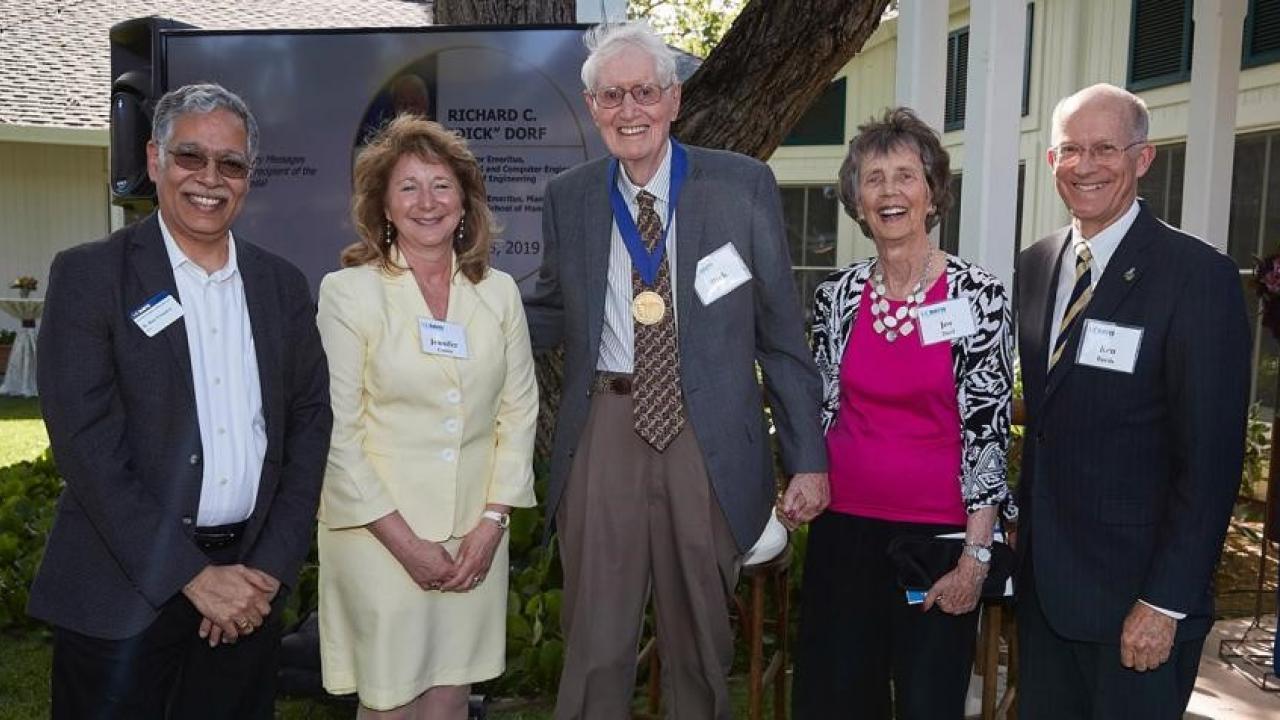 Originally posted by Aditi Risbud Bartl
Richard C. "Dick" Dorf, professor emeritus of electrical and computer engineering and of the Graduate School of Management, passed away on October 22, 2020. He was 86 and is survived by his wife Joy.
Dorf joined UC Davis as a faculty member in the Department of Electrical and Computer Engineering in 1971. He was appointed dean of Extended Learning in 1972 and led the program until 1982. In 1981, he became a founding faculty member of the Graduate School of Management's predecessor, the Graduate School of Administration.
"Professor Dorf has had a profound influence on our department and on engineers throughout the world as a prolific and influential author," said Andre Knoesen, professor and chair of the Department of Electrical Computer Engineering. "His textbook Modern Control Systems was internationally recognized for many decades as the leading textbook in the field, along with Introduction to Electric Circuits, which was also widely adopted."
The Dorfs have been supporters of UC Davis and the College of Engineering since 1975. The Richard C. and Joy Dorf Fund for Academic Excellence and Leadership is awarded to undergraduates in the College of Engineering who have demonstrated outstanding academic achievement and exceptional personal leadership, the Richard and Joy Dorf Engineering Fellowship provides support for graduate students from socioeconomically disadvantaged backgrounds and the Dorf Design and Communications Classroom in Kemper Hall is a renovated space specifically designed for the undergraduate course Introduction to Engineering Design (ENG 3). The Dorfs also contributed to the new Engineering Student Design Center, set to open in fall 2022, to help students learn about entrepreneurship and gain hands-on experience before graduating.
"From teaching methods in the College of Engineering to the establishment of the Graduate School of Management to the introduction of entrepreneurship and innovation studies on campus, Dick Dorf's lasting contributions to UC Davis are indisputable," said Jennifer Sinclair Curtis, dean of the College of Engineering. "His legacy on campus will remain for years to come through his generous philanthropic support and he will be missed."
Read the full obituary here.
Category