Opus Number Three: A Symphonic Relationship Between Engineers and Winemakers
Partnership creates innovative research in wine and indoor air quality
It was January of 2022 and Department of Electrical and Computer Engineering Distinguished Professor and Chair André Knoesen encountered a problem.
UC Davis was returning to in-person instruction, but local cases of COVID-19 were on the rise. Knoesen needed a system that could purify the air inside the labs in Kemper Hall and verify that it was safe enough for undergraduate instruction laboratories.
Knoesen knew just who to call—head winemaker at Opus One Winery Michael Silacci '87, M.S. '88.
"I asked Michael if I could use the sensors they had at Opus and bring them to Davis," Knoesen said. "He said, 'absolutely, we're a team.'"
A 30+ year partnership
The partnership between Opus One Winery and UC Davis College of Engineering dates back to the 1980s when Silacci was a student of Distinguished Professor Emeritus of Chemical Engineering Roger B. Boulton. When Silacci became head winemaker of Opus One in 2000, Boulton served as technical and scientific advisor to the winery, helping on a number of projects for many years including giving input on the winery's design and construction.
Electrifying the relationship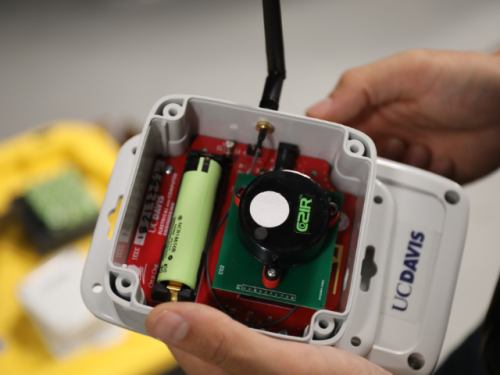 In 2016, the relationship evolved to include the Department of Electrical and Computer Engineering through the work of former graduate student Nic Madrid '14, M.S. '16.
Knoesen and Boulton both served as Madrid's advisors as he executed a project that implemented a wireless, cloud-based CO₂ sensor network to track the winemaking process. It was first used at UC Davis' Robert Mondavi Institute for Wine and Food Science and then at Opus One–one of the project's sponsors.
For that reason, when Silacci had concerns about CO₂ levels in the winery due to emissions from the fermentation, he knew ECE could help.
Under Knoesen's supervision and with support from Opus One and another ECE industry partner Texas Instruments, two senior student design teams advanced the wireless sensor systems to monitor CO₂, humidity and temperature with multiple battery-operated sensor nodes. The sensors worked, acting "like canaries in a coal mine," according to Knoesen, providing valuable data and making improvements in the air delivery system used at Opus One Winery.
"We would not have been able to fix this problem without their help," Silacci said. "We would have had to just observe the CO₂ levels by walking around and smelling the air, and that's not a good way to find it because it's dangerous."
Reciprocating relationship
Because of these past successes at Opus One, Knoesen knew he could call on Silacci when he needed help tracking the air quality within UC Davis labs. He was right.
Within two days, ECE doctoral student James Nelson '20, M.S. '22 got the wireless sensors up and running in a lab, connected with another innovation from the College of Engineering—the Corsi-Rosenthal box, a DIY HEPA air filtration system that was developed by Dean of the College of Engineering Richard Corsi. Soon more than 20 monitors were set up throughout the college tracking CO₂, humidity, temperature and particle counts and taking samples day and night at five-minute intervals. The system allowed students to use the lab space safely and without concern.
Then, after the academic year ended, the sensors were returned back to Opus One.  
More successes expected in the future
The trio all say they expect more successes in the future because of the open, collaborative nature of the relationship, and a new generation of scholars is benefiting from this partnership.
For example, former graduate student Kim Marinelli integrated Boulton and Knoesen's recent exploration of electrochemical measurements and redox potential (or oxidation tendency) of grape juice, a research project started by another ECE graduate student David Killeen '15, M.S. '16, into her own research when she was at UC Davis. Now, as Opus One's current research viticulturist, Marinelli is partnering with Nelson on the latest collaborative project between UC Davis and Opus One: the study of how redox potential influences wine fermentations. 
"Both Roger and Andre are not just world class researchers, they are world class human beings," Silacci said. "Our work together is at the junction of theory and reality, where the principles meet practice. It's a relationship that's collaborative and there's a lack of ego."
Boulton agreed.
"It's a relationship that's very open, trusting, encouraging of fresh ideas and a good demonstration of what's possible."
Primary Category
Secondary Categories