UCD ECE Program Advisory Board Member Cathy Liu, of Broadcom, Named DesignCon's 2021 Engineer Of The Year
Donates Prize Cash to ECE Program 
Quick Summary
ECE advisory board member Cathy Liu was recently named 2021 DesignCon Engineer of the Year
She earned this recognition for her work on signal processing and forward error correction and her community involvement.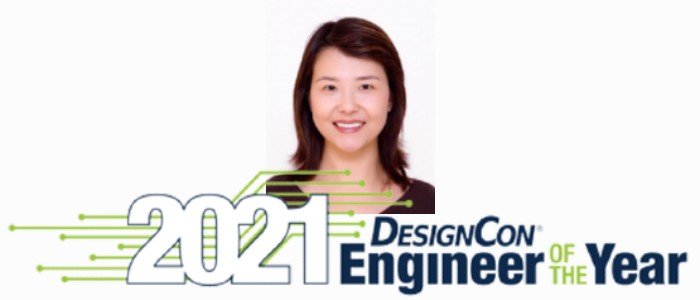 Cathy Liu, telecommunications engineer at Broadcom and member of the advisory board for UC Davis' department of electrical and computer engineering, has been named DesignCon's 2021 Engineer of the Year. She's donated the $1000 prize that comes with the recognition back to UCD's ECE department.  
This award goes to Liu because of her work to develop and improve high-speed transceiver technology. "Since my Ph.D. study with Dr. Shu Lin and my early years in industry, my personal research interests haven't changed much. I've always been working on signal processing and forward error correction (FEC). There's been a perfect match between my academic research and my professional engineering work." Liu has earned over 20 U.S. patents and has published numerous papers in journals and at conferences.  
Liu recently read Angela Duckworth's book Grit: The Power and Passion of Perseverance and shared that she agrees with Duckworth about how viewing one's job as a purposeful calling provides more motivation to continue. To Liu, enhancing the speed and accuracy of online communication and data transfer is a calling. "As a chip designer, I would like to build something new, something to help others and make the world better. During the Covid-19 pandemic, networking products became essential to connect people. I was an essential worker developing this technology."  
DesignCon's awardees are chosen for their commitment to public service in the industry as much as for their technical knowledge and research. Liu serves as an active member of the DesignCon Technical Program Committee and a member of the board of directors of the Optical Internetworking Forum as well as advising UC Davis' ECE program.  
Liu believes strongly that academia and industry can learn from each other's cultures. "Industry needs academic research to guide their future product solutions and directions. Revenue and profit margins are important for any company, however, for long-term growth, creative and innovative technology is [essential to survival.] Many advanced telecommunications technologies have come from universities and academic institutes."  
She especially thanks professors Shu Lin and Khaled Abdel-Ghaffar from UC Davis' ECE department for their work with Broadcom (then known as LSI/Avago) through the University Research Program (URP) ten years ago, which Broadcom funded to support researchers to find ways to break through bottlenecks in technology. "They helped us to investigate different FEC options for future networking systems and their research report has been crucial since then and still very valuable for the future as industry moves towards more advanced Ethernet. And on the other side, I also hope Broadcom's URP has brought some industry insights and support for UCD's ECE research programs as well."  
Liu points to collaboration as key to addressing our increasing need for bandwidth for communication and information transfer. "With the growth of 5G data traffic and AI computing, data centers need faster connectivity. Looking back over the past 20 years, the transceiver I/O data rate has doubled every two to three years. It will continue growing, for sure. Higher and higher speed poses some unique engineering challenges to overcome shortages of power efficiency, reach distance, latency and cost. Different segments of industry – component providers, optical module suppliers, silicon developers, equipment integrators, and test and measurement developers – need to work together. Meanwhile, industry needs to [continue to] engage with academia for long-term solutions."  
To foster that collaboration, Liu is proud to donate her prize back to UCD's ECE program. "For an engineering job, you must never stop studying, and continue to learn. A healthy, growing company needs a steady flow of high-quality engineering students to join its ranks. It is my honor to donate my award to support engineering students as they pursue their future careers." 
Primary Category
Tags