Q&A with 2022 Graduate Program Advising and Mentoring Award Recipient Omeed Momeni
ECE associate professor lauded for advising effort during the pandemic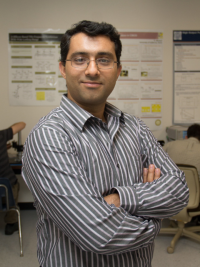 Associate Professor Omeed Momeni from the Department of Electrical and Computer Engineering was honored with a Graduate Program Advising and Mentoring Award from UC Davis Graduate Studies. In being nominated, Momeni was applauded for the extra effort he demonstrated in mentoring students during the pandemic. 
"Dr. Momeni effectively advised distressed students and went out of his way to reach out to these students during the social distancing periods. Thanks to his selfless efforts, many of these students have continued to make significant progress in their degrees," said Jeremy Munday, Graduate Program Chair in the Department of Electrical and Computer Engineering. "Dr. Momeni displays qualities of an exceptional active listener, which played a pivotal role in his effectiveness as the Graduate Advisor."
We took a moment to chat with Associate Professor Momeni to learn more about what this award meant to him and the importance of mentorship in graduate education:
What does it mean for you to receive a Graduate Program Advising and Mentoring Award?
This means a lot to me. Personally, I am grateful to be nominated for this award by the colleagues I respect so much. Professionally, I feel the work I performed as the Graduate Advisor is appreciated and had some positive effect on our graduate students.
How did the pandemic impact your desire and ability to serve as a mentor?
During the pandemic I had to deal with many more distressed students, many of whom were affected by anxiety, lack of socialization, reduced communication with advisor and peers, delayed degree milestones and lack of motivation. Moreover, the remote operation of the university made it harder for me to reach out to these students. Although this was a challenging time for me and for many students, it had its rewards. For me nothing is more satisfying to help students manage their difficulties and get back on track to finish their degree successfully. I will cherish these experiences and moments forever.
Was there a particular mentor or advisor who made a difference in your academic career? If so, how?
Yes, my Ph.D. advisor Professor Ehsan Afshari (from Cornell University, who is now at University of Michigan) has been the most influential person in my professional life. He was a very good listener, trusted my judgment and understood my needs during my Ph.D. period. Ehsan helped me build a vision, choose a career path and generously supported me to get there. 
Why do you think mentorship is important during graduate school? 
When I was a Ph.D. student I appreciated constructive advice from a good mentor. I was lucky to have amazing mentors and that has changed my professional life. As the Graduate Advisor I am hoping to have the same role in the students' life and be able to successfully guide them through their time at UC Davis. 
Omeed Momeni has been a faculty member at UC Davis since 2011. His work is focused on many aspects of THz/mm-wave systems, including high gain/power amplification, high power and wideband signal generation/synthesis, low noise/conversion-loss mixers, scalable/wideband antenna arrays, and wide-steering-angle phased arrays, all of which operate close to or beyond the conventional limits of the transistors. The targeted applications include high-speed communication, high-resolution imaging and sensing and wide band frequency domain spectroscopy.
Primary Category
Tags