Sabrina Yarzada is First UC Davis Student to Win USRA Distinguished Undergraduate Award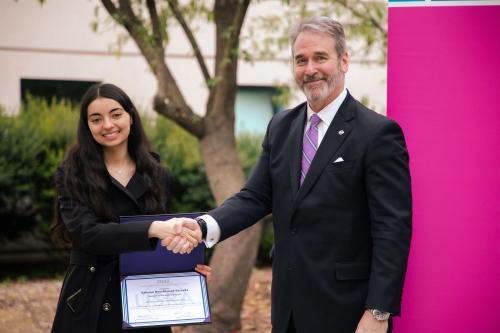 UC Davis College of Engineering double major, fourth-year student Sabrina Yarzada has been named a 2022 Universities Space Research Association (USRA) Distinguished Undergraduate Award recipient—making her the first person from UC Davis to win this prestigious international award.
"Being the first in UC Davis history to be named a USRA Distinguished Undergraduate is an absolute honor," she said. Noting her humble beginnings, she added, "It is a powerful demonstration of the fact that anyone, from any background, can achieve anything."
USRA is an independent, U.S.-based nonprofit research corporation that fosters collaboration between NASA and the university research community. Their Distinguished Undergraduate Awards are granted to students who tackle challenging problems in aerospace engineering, space science research and exploration, demonstrate leadership, promote diversity in science and engineering, and are poised to make significant contributions to their fields. Yarzada, who was acknowledged for her academic accomplishments and leadership qualities, was one of only five students internationally to win the award. 
"Sabrina has a solid record of leadership in IEEE and a clear affinity to D&I (diversity and inclusion) issues in engineering," said James "Jim" Lochner, program manager of USRA's Distinguished Undergraduate Awards. "She is also very strong academically with interest in supporting NASA and the space industry." 
Persevering to find her passion
Yarzada, who is the second oldest of six children born to Russian and Afghan immigrant parents, grew up speaking Russian and Pashto at home. She wasn't exposed to English until she went to kindergarten in Elk Grove, Calif. and really didn't start speaking the language until the second grade.
"The first few years of school were very difficult for me because I couldn't understand much of what was being said around me," she said. "My mother used to have to go to school with me every day when I was in kindergarten to be there for me, even though she didn't speak any English either."
Yarzada persevered and soon discovered a love of engineering as she built houses and furniture for her dolls. Her interest flourished in middle school and high school when she attended School of Engineering and Sciences, one of Sacramento City Unified School District's career-themed schools designed to prepare students for careers in science and engineering. In addition to having engineering-focused classes and electives, Yarzada was part of the School of Engineering and Sciences' FIRST (For Inspiration and Recognition of Science and Technology) Robotics Competition team. She helped build a robot from scratch, led STEM workshops for underrepresented members of the community, and participated in the national FIRST Championship competition two-years in a row in Houston, Texas.
"That's where things really started to accelerate because I got a lot of hands-on experience with assembling electronic components together and soldering," she said. "That really propelled me to study engineering further and it's why I chose to study electrical and computer engineering at UC Davis."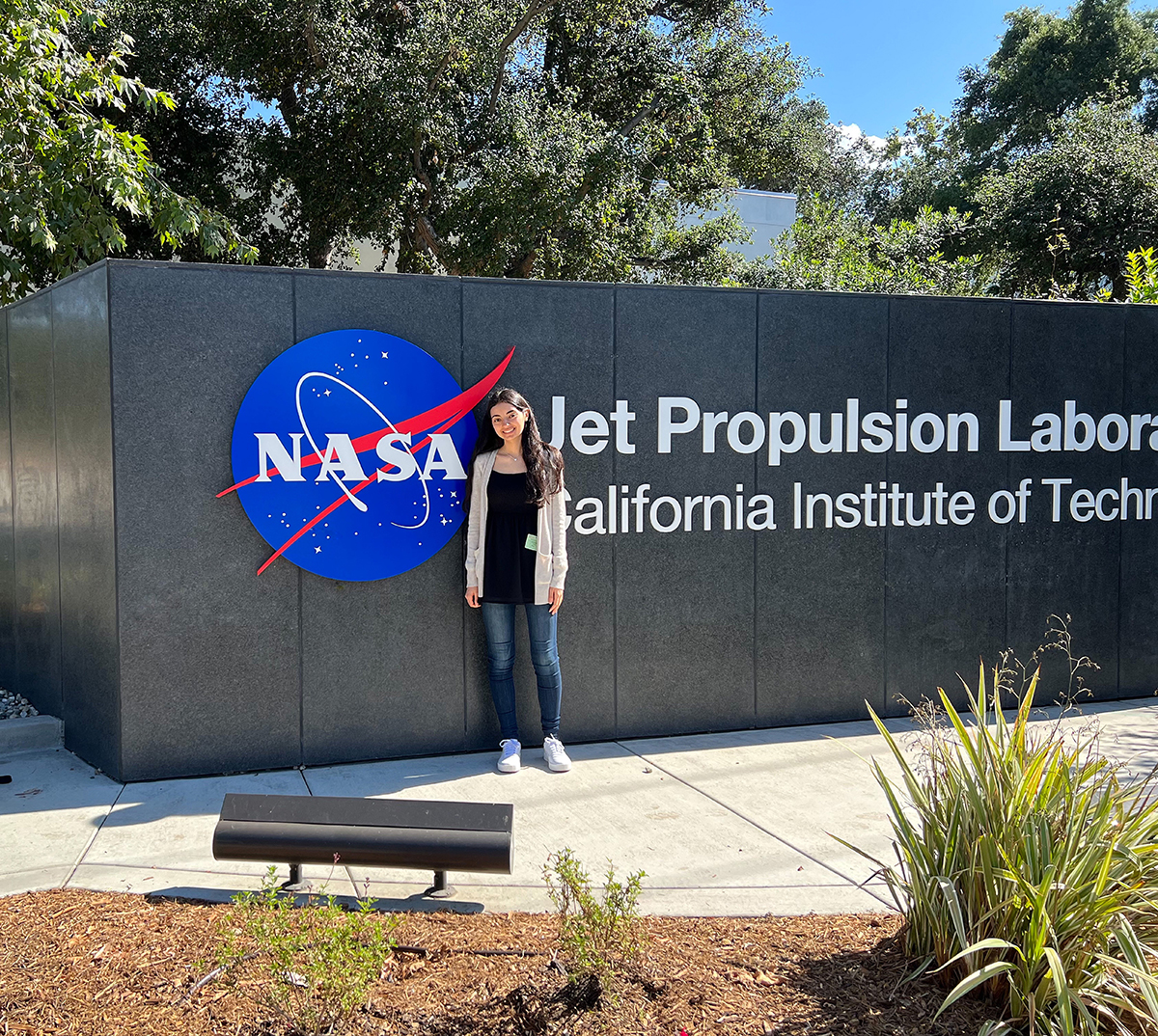 As part of these robotics team competitions, Yarzada visited NASA's Johnson Space Center, which is where her interest in space flourished.
"Being able to speak with real NASA engineers who are such diverse people from remarkable backgrounds made me realize this is a field I really want to be into for the rest of my life," she said.
Motivated to be a female engineering pioneer
Pursuing this dream of an engineering degree hasn't been without its challenges. Yarzada, who is a first-generation college student, said she often felt behind her peers during her first year in college, noting that sometimes she was the only woman in her engineering classes.
"But that motivated me to work really hard," said Yarzada, who is pursuing a double major in computer engineering and electrical engineering. "Davis has a very welcoming environment and is very supportive, and, after a while, I realized I didn't need to be intimidated. I could work just as effectively as my classmates. Sometimes it just took a little more effort to put myself out there."
She says she feels added motivation to succeed knowing that women in Afghanistan, one of the countries of her family's origin, are currently (at the time of publication) not allowed to continue their education past the sixth grade.
"I realize the privilege I have in my access to higher education and feel a responsibility to my family and others without the opportunity to make the most out of it and accomplish a lot," she said.
"Accomplish a lot" is something Yarzada certainly has done. In addition to this USRA Award, Yarzada has won a 2022 Texas Instruments UC Davis ECE Scholarship and participated in EE-Emerge. She also has been very involved in several student groups on campus, both with engineering and the first-generation student community at UC Davis. For example, Yarzada is president of IEEE student chapter, an engineering ambassador, and has been involved with the Club of Future Feature Electrical Engineers (COFFEE), which was established in 2019 to promote academics, retention and community among women in the Department of Electrical and Computer Engineering at UC Davis. On her own accord, Yarzada also is shadowing in the graduate lab of one of her professors to explore the possibilities of graduate school.
Sights set on a career at NASA
Yarzada also has held two internships at NASA. The first summer she worked at Silicon Valley's NASA Ames Research Center; the second summer she worked at NASA Jet Propulsion Laboratory in Pasadena, Calif. where she got to work on an aspect of Application Specific Integrated Circuit (ASIC) technology. The project has inspired her to pursue a graduate degree in electrical engineering, focusing on mixed-signal ASIC design, and then a career at NASA.
"Seeing how far I've come, and having that recognized by a national organization driven by an incredible mission, makes me very proud and inspires me to keep moving forward toward my goal of becoming a professional innovator while paving the way for more women and minority representation in STEM."
Primary Category
Tags