ECE Congratulates 2021 Alumni Award Recipients and Seeks Nomination for 2022 Awards
Quick Summary
The ECE department welcomes all to nominate their peers now for the 2022 alumni awards! Link available below and on the website, deadline is May 6th.
Andrew Fong, Alysia Iglesias, and Jeremy Roberson have been awarded by their fellow alumni and current electrical and computer engineering (ECE) faculty and staff for the inaugural 2021 alumni awards: Rising Star Alumni, Outstanding Alumni Mentorship, and Alumni Leadership in Promoting Diversity, Equity and Inclusion.
2021 ECE Leadership in Promoting Diversity, Equity and Inclusion Award: Jeremy Roberson (Ph.D., '07)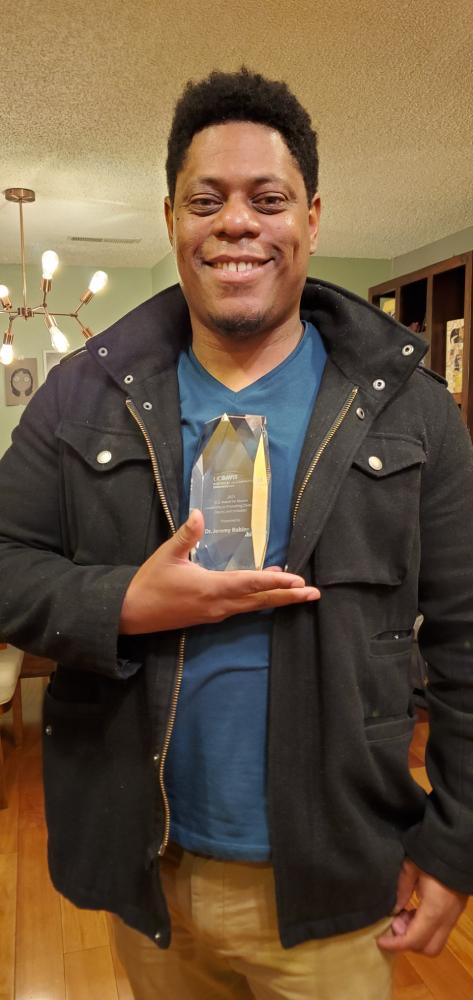 The recipient of the 2021 ECE Leadership in Promoting Diversity, Equity and Inclusion Award, Jeremy Roberson, is in management at a startup, Flex Logic Technologies, that produces specialized computer chips for use in artificial intelligence. Previously, he was a platform architect in the machine learning artificial intelligence area at Intel, a staff system architect at Synaptics, where he worked on capacitive touch sensing, a senior member of the technical staff at Aerospace Corporation where he worked on software-defined radios, and an engineer at Applied Signal Technology where he worked on the early versions of 3G and 2.5G receivers.   
When asked what advice he would have for current ECE students, Roberson said he would encourage students to identify and follow their strengths. "There are many paths within ECE. You can focus on the technology, or if you're business-oriented you can pursue sales or become a tech CEO or go into venture capital or patent law. Whether you're an introvert or extrovert, you'll need to interface with both software and hardware teams, as both aspects are needed for equipment to work."   
A high school academic standout from Stockton, CA, Jeremy entered UC Davis and completed his BS degree in ECE with a stellar record. Fascinated by the world of wireless after taking EEC 160, he joined professor Zhi Ding's research team as a Ph.D. student to work on advanced receiver design and algorithms for high rate wireless devices. He has stayed in touch with Zhi Ding after graduating from UC Davis, as his fascination with wireless communications and signal processing grew and he was excited to follow the latest projects of Ding's team. 
Roberson says that in addition to giving him a solid foundation in math and physics, UC Davis's ECE program prepared him for the collaborative nature of his career by encouraging him to join the Institute of Electrical and Electronics Engineers (IEEE) professional student chapter at UC Davis and by offering lab-focused senior project classes with team assignments. As a Ph.D. student, he attended events with guest speakers from various fields in electrical and computer engineering. "This gave me an appreciation for all the different things that engineering can be," he says.  
He encourages emerging engineers to select one or two areas to pursue in-depth, but not to forget to see the whole picture. Also, he advises that those who grind 24/7 aren't always the most successful or creative engineers. "Creativity takes time, you have to let your brain settle, not just go nonstop. Improve your ability to learn new skills, how to delegate and plan a schedule and develop a process for your work."  
Finally, Roberson suggests that graduating ECE seniors push themselves to take on more responsibility and maintain a growth mindset while finding a career path that makes them happy. "As long as you like what you're doing, you will be successful." 
Department chair André Knoesen comments, "Jeremy's professional achievements and the example he sets for all our students serve as an inspiration as to what our ECE students can achieve." 
2021 Rising Star Alumni: Andrew Fong (M.S., '11)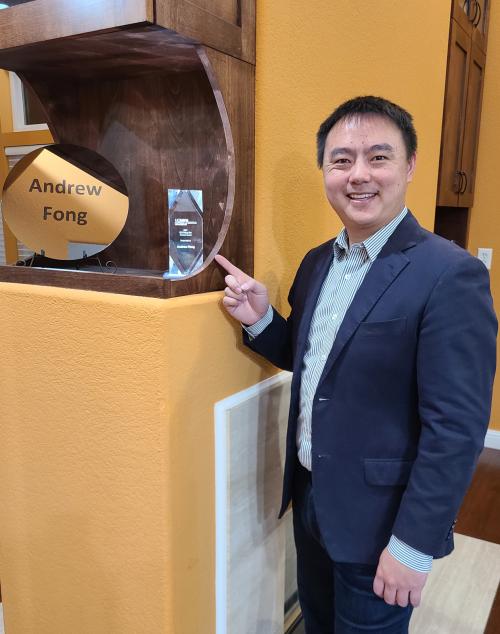 Andrew Fong, the Rising Star Alumni for 2021, is an exemplar of an ECE graduate who has notable accomplishments in the first stage of his career. Having graduated in 2011, he now serves as the Global Product Manager/Marketer for conductor etch logic products at Applied Materials. His expertise is plasma etching, one of the critical steps in semiconductor device manufacturing. 
Semiconductor devices consist of logic and computing kits (CPUs and GPUs), dynamic memory (computing RAM), and storage memory (flash/NAND memory and phase-change memory). These devices form part of our everyday technologies. According to Fong, "Every single computing device you have - phones, watches, computers, cars, even appliances - has chips that have been processed with at least one of our products." He has earned patents for pulse plasma technology, a now-ubiquitous method of wafer fabrication. 
Fong points out that UC Davis' clean room and associated programs uniquely position the university to prepare students to work on semiconductors and tap into industry and government investment in the field. 
Andre Knoesen highlights Fong's initiative in preparing students to navigate the current professional engineering world. "As chair of the ECE Industrial Board, Andrew has been active in leading efforts to expose our ECE undergraduates to opportunities in industry and also to prepare them for professional challenges they will face. During Covid-19, he approached me to find out how he could assist our students, and that led to a workshop he organized for the IEEE student chapter where several of our alumni shared their professional experiences during Covid-19 with our students."  
When presenting to the student chapter of the IEEE at UC Davis, Fong always underscores that engineering is a collaborative team effort. "You need to get out of your comfort zone, work and communicate across disciplines. It also helps to learn the workflow and logistics of how things get done in industry, get past the task level and see the big picture. It's not the same as in school." 
2021 Outstanding Alumni Mentor: Alysia Iglesias (B.S. , '18)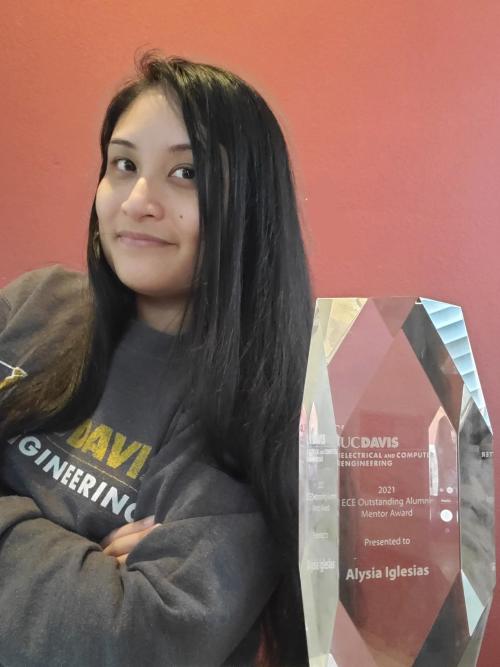 The 2021 Outstanding Alumni Mentor, Alysia Iglesias, is currently pursuing a master's degree in electrical engineering at the University of Colorado - Boulder specializing in embedded systems. In 2020, while employed at Intel, she published a paper for the IEEE on power phase balancing using embedded systems. Her ultimate career goal is to build embedded systems for the aerospace industry.  
Iglesias has served as a mentor with the College of Engineering's Mentorship Collective since 2019. As she explains, "As an alumna, I offer mentees my own unique and multifaceted perspective on what life was like for me as an engineering student, which not only serves to guide them along their paths but reassures them they aren't walking that path alone." 
She aims to build a keen sense of purpose, dedication, and confidence within her mentees so they can meet the challenges of their careers head-on and achieve their goals. "It's normal to have trouble choosing an engineering specialty," she says. "I always ask my mentees what sorts of problems they want to solve and to go from there." 
She encourages current ECE students to take project-based courses such as EE-Emerge and join interdisciplinary projects such as Hyperloop and Eclipse Rocketry. She urges students to take advantage of UC Davis student resources, such as counseling, tutoring, and the Internship and Career Center. Finally, she reminds aspiring engineers that it is important to balance work and relaxation, as one's health comes first. 
Andre Knoesen describes how and why this sort of mentoring support is crucial for the new generation of ECE students. "I got to know Alysia when she was taking EE-Emerge in her junior year.  Her enthusiasm and positive attitude towards meeting challenges immediately became clear. Her excellent communication skills allow her to relate to fellow students. I am very thankful that Alysia is sharing her professional experiences as a mentor with our undergraduate students. Such mentoring by our recent alumni, in particular from unrepresented groups in ECE, is essential to enrich the experience of our ECE students, filling a critical void that faculty mentors, who are often of an older generation and who have not experienced similar life challenges, cannot meet."
Iglesias expresses gratitude towards department chair André Knoesen for connecting her with inspiring people, including professors Amirtharajah and Hihath, who provided support and encouragement, and her advisor Nancy Davis who taught her invaluable time management skills. "You've got to plan, make a schedule, and stick to it," Iglesias says. 
Call for Award Nominations
The ECE department has opened the nominations for the 2022 awards and encourages the ECE community to nominate peers deserving of these honors.  
Deadline for nominations is May 6, 2022. 
For more information regarding the award nomination process, please visit:
Primary Category